How to Help SACS
Learn how you can help WFC's Sexual Assault Crisis Services program through donations and volunteering.
Do you want to make a difference in someone's life at their most vulnerable moment? We need volunteers that are empathetic, compassionate, flexible, supportive and non-judgmental to become a volunteer Sexual Assault Counselor.
WFC Sexual Assault Crisis Services (SACS) exists because of caring people like you. If you are considering sharing your time to make a difference in your community, please consider our program.
All volunteers must complete our training to become a certified sexual assault crisis counselor. We currently offer a variety of volunteer opportunities.
Counselor/Advocate Volunteers:
Provide assistance to victims of sexual violence through group or individual support
Provide accompaniment during medical, police or legal proceedings
Provide immediate crisis counseling to survivors over the hotline
Volunteering with SACS can build your resume or grow your career for professionals and college students who are in related fields of study / careers. Additionally, we care for our volunteers and understand that even the caregivers need to be cared for. Our volunteers get support on their 1st hospital visit, receive ongoing training to keep up to date, and are able to talk with any of the staff on a 24×7 basis either for themselves or on their cases.
The point of contact for the volunteer program is Nydia Roldan. Her contact information is [email protected] 475-261-4233
Counselor/Advocate Training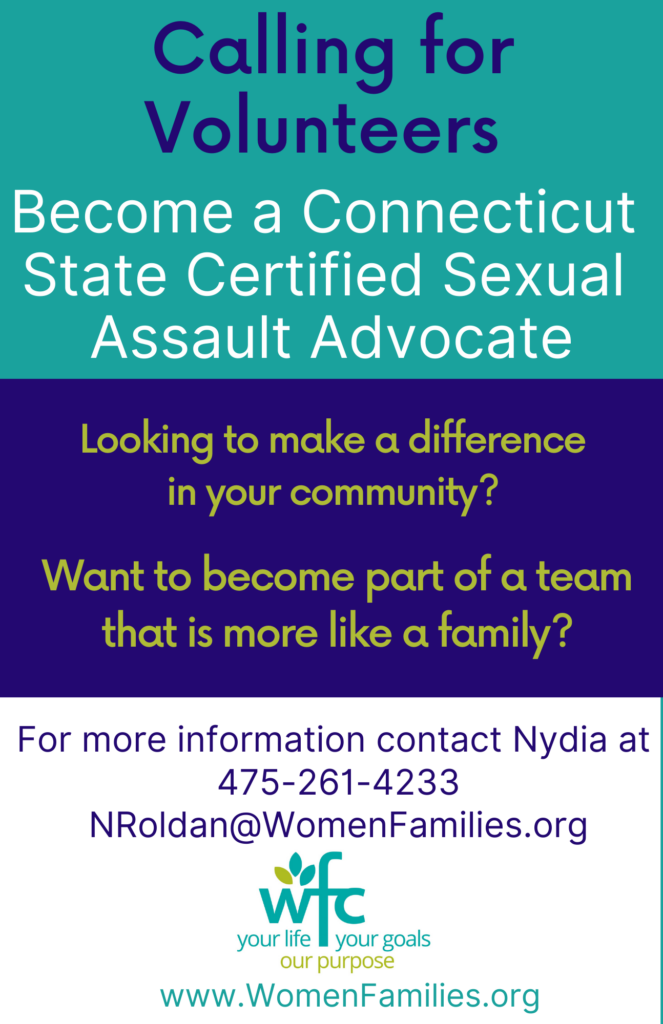 The Sexual Assault Crisis Counselor Certification Training program is a 40-hour training program leading to certification as a volunteer Counselor/Advocate. You will gain the valuable training and experience needed to provide crisis intervention and advocacy to sexual assault survivors and their loved ones through hotline calls, hospital and police accompaniments.

Requirements: Volunteers must commit to at least 6 months of service. This includes 2 hotline shifts per month. Volunteers must be 18 years of age or older and have reliable transportation for hospital, police and court accompaniments. To maintain certification, volunteers must attend four hours of in-service training per year and attend annual supervisions.

How: Complete our application and reference form. These forms, along with a pre-training interview, will assist us in assuring that your interest coincides with our needs. Please complete the volunteer application and agreement and then contact Nydia Roldan.
Click here to download the volunteer application
Click here to download the volunteer agreement
SACS Donations:
If you want to support WFC's Sexual Assault Crisis Services (SACS) through a donation, please consider donating either a care kit for a sexual assault victim or a monetary donation.
Care kits are given to the individual at the hospital after their medical exam. The care kits contain:
An Adult Unisex Sweat Suit
Socks
Deodorant
Toothbrush
Toothpaste
Small stuff animals
Note: please make sure the colors are neutral and the sizes are adult unisex, one size fits all.
Monetary donations allow us to build better educational programs by creating awareness and educating about consent and boundaries as well as helping those who are dealing with sexual violence. Help us to end sexual violence one individual, one family, one community at a time.
To learn more about the WFC's Sexual Assault Crisis Services, please click here
SACS Resources: