WFC's RISE Programs for High School Students
WFC's RISE Programs are offered both to in school youth and as well as an afterschool program. Both programs are designed to ensure that students and young adults are exceeding at school and being prepared to either enter the workforce or to continue their education. These programs are offered to the Meriden School District students grade 9 through 12 free of charge through grant programs and private donations.
RISE In School Youth Program
The In School Youth Program is for High School Seniors registered with the Meriden Board of Education to prepare them for their next stage in life whether that is to further their education at a college or to enter the workforce. The program for Seniors includes:
Academic Coaching
Math and Reading Tutor Services
College & Career Counseling
Paid Externships (Work Experience)
Employment training
Job Development & Job Placement Assistance
Leadership and Community Service Activities
*Students are responsible for their own transportation to the program
Students in this program will benefit from continuous guidance and support up to 1 year after they exit the program to ensure their success.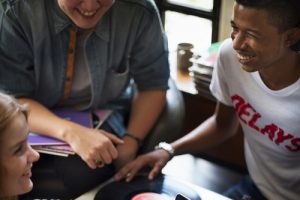 RISE After School Program (Grades 9-12)
Students who attend either Platt or Maloney High Schools can go to the RISE After School Program.
Students will participate in lots of interactive activities that focus on community projects, guest speakers and enrichment activities. This program is open to all students for free at these locations. Transportation for this program is provided by the school through their afterschool activity bus system.
This program is led by Students and supervised by teachers.
Fun, interactive and project-based program with core focus areas in:
College & Career Readiness
Math & Science
Literacy
Health & Wellness
Community based projects
The program also incorporates enriching activities in media, arts, community service and recreation.
Offers Homework Help & Tutoring
Provides Daily Nutritious Snacks
Program Schedule:
Monday-Thursday
School Dismissal to 5:30 pm
Guest speakers for the programs have been:
Stop and Shop
TJ MAXX
ParaDYM
City of Meriden Health Dept
XL Center
FYE
News Channel 8
For more information regarding our WFC's Open DOHR Programs please contact John Johnson, Director of Open DOHR; (475) 775-4899 [email protected]
WFC Open DOHR Program Resources:
Application Documents:
RISE Release forms:
Outside Resources: